Advance Fitness Franchise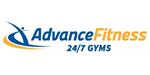 Advance Fitness - 24/7 Gym Franchise
Advance Fitness is the gym for everybody, it's the gym for creating life-changing stories – it's the gym for you!
Watch Video
Finance requirements

Total Investment:

$300,000 - $500,000

Areas Available

Australia & New Zealand
Profile
Stand Out From The Crowd & Join Australia's New Progressive 24/7 Gym With The Lot!
All of your fitness needs under the one roof.. If you have the passion and the drive we're ready to help you succeed!
What We Offer
Advance Fitness have diverse franchise opportunities available, including greenfield locations across Australia and New Zealand and conversions of existing facilities, coupled with large exclusive territories to provide the best opportunity for success. We have options to suit all budgets and preferred locations. We work hard to ensure that your business dreams become a reality.
Our success to date has been around creating 24/7 gyms with the lot, including group Fitness, 45 Minute Functional Training, Cycle Studio, Personal Training... Our complete range of training solutions offers something for everyone!
With arguably the most proactive sales, marketing & member retention plan in the fitness industry, Advance Fitness is positively life changing for our members as well as our Franchisees, with support EVERY STEP we're confident Advance Fitness will be your long-term choice.
About the Opportunity
Advance Fitness is all about balance. We build fit communities through creating the most exciting training environments for our members in each of our regions.
Marketing Support
Before franchising, Advance Fitness operated as the number one fitness marketing company in Australia & New Zealand. Working with independent health & fitness clubs to grow their membership base and increase the business profitability.
Using our proven sales and marketing methods we support our franchisees every step of the way taking all of the hard work and uncertainty out of promoting your gym. From concept, coordination & implementation of monthly membership promotions, member engagement campaigns & most of all membership retention. WE'VE GOT YOUR BACK.
Training Provided
Advance Fitness provide our franchisees with all the training needed to hit the ground running. Over a three-week period your team will receive initial operational and sales training as well as ongoing training and support. We meet with you monthly to review current performance against our business metrics to ensure that your club is on track. We work together on solving any issues and celebrate your wins.
Our Goal
Advance Fitness intend to solidify our brand presence with a focus on CREATING 24/7 GYM'S WITH THE LOT, throughout regional & metropolitan areas across Australia and New Zealand
Working Together
Franchisees will benefit from joining a progressive and successful business network that is striving to be the best full-facility 24/7 fitness franchise in Australia and New Zealand. Our aim is to help franchisees succeed by ensuring ongoing support, clear marketing strategies and advanced technology systems.
Advance Fitness started as a company specialising in Marketing and Sales strategies for the fitness industry. The franchisors have the expertise and know-how to make any gym thrive and their proven track record is real evidence of this! They have excellent examples of success! Your business will be backed by systems and processes that have been refined and put in place to ensure that logistics and operations run smoothly for franchisees, staff and trainers and members of the gym.