All Pro Cleaning Systems Franchise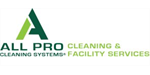 All Pro Cleaning Systems - Regional Development / Master Franchise
Put your sales and management skills to work and make your dreams a reality.
Territory Information
Austin
Total Investment:

Available on request
Liquid Capital:

$100,000
Other Areas Available

USA
Profile
EXECUTIVE FRANCHISE OPPORTUNITY WITH LOW START-UP COSTS & STEADY CASH FLOW
You have the ambition. You have the knowledge. And you're looking for a franchise opportunity for someone with the executive, management, B2B, sales and/or marketing skills, and experience you possess. You're finally ready to put these skills to work and open a business of your own and make your dreams a reality.
Let All Pro Franchising International Inc. Be Your Partner
We offer huge, exclusive territories, making you the Regional President of your own metropolitan area. Our industry focus is in the enormous commercial cleaning & facilities services industry — a $100 billion-dollar industry that continues to grow, because the demand for commercial cleaning services and facility services is constant, and because nearly every building you see is a potential customer.
Our tremendous training program builds on your already-solid foundation and provides you with the knowledge and skill development you need to be a successful commercial cleaning franchise owner. Our stellar support system offers a helping hand to navigate through challenges you might face or roadblocks you're having trouble working around. And with the backing of a time-tested franchise system that has been in place for nearly 25 years, you'll be hard-pressed to find a cleaner, smoother janitorial business franchise than ours.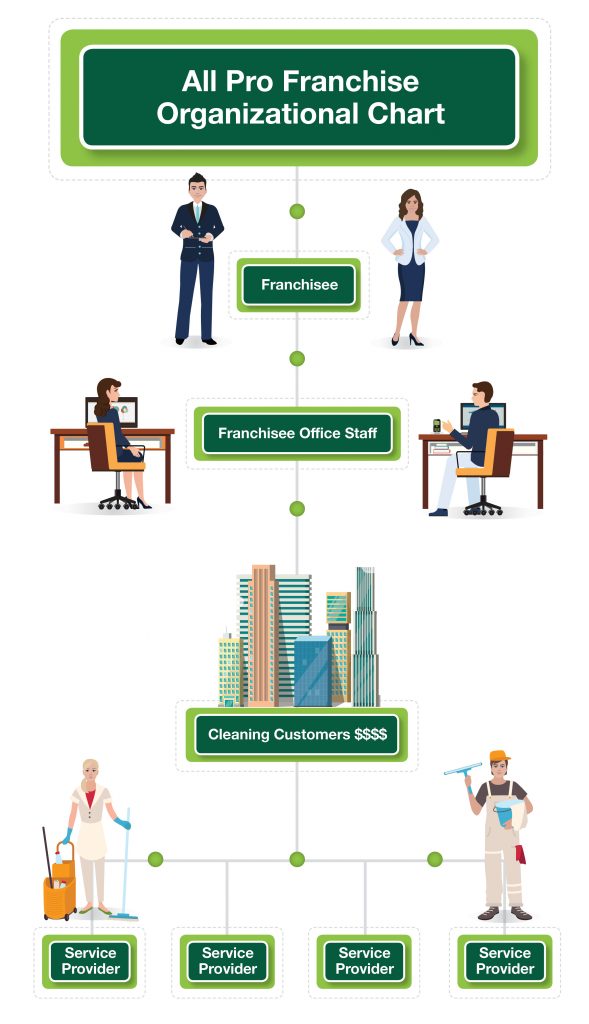 For more information on why All Pro could be the right choice for you, continue reading, explore our site, or contact us today to begin your executive franchising journey.
Commercial Cleaning & Facility Services Management Franchise
The brainchild of Ron Showalter and Rick Robinson, franchise veterans for almost three decades in the commercial cleaning industry, All Pro Franchising International Inc. is a full-service building maintenance franchise. However, you don't need to be an expert in the cleaning industry to own and operate one of our franchises.
Instead, we're looking for executives with marketing, sales, and/or management experience in a B2B setting. If you're looking to make a move for yourself and are considering investing in a franchise, All Pro offers a sound opportunity that delivers:
Steady cashflow
Multiple revenue streams
Low overhead
Fast return on investment
Very high earnings potential
Here's a closer look:
Low Start-Up Costs
The start-up investment for this scalable business is lower than you might expect. Your start-up costs, which include franchise and territory fees, training and travel expenses, office lease deposits, office equipment and software, advertising, and working capital can be lower than $100,000.
To help ease the cost, we offer some partial in-house financing as well as third-party relationships with partners who offer several financing options, including retirement rollover programs, unsecured loans, home equity loans, and business lines of credit.
And with such a low start-up cost, you get a quick return on your investment. You can expect to be signing and billing new customers within the first few months of opening your property maintenance franchise.
Proven Business Model
With experience in the corporate world, you understand how important it is to choose a franchise with a strong business model. Our proven business model has been perfected through 25 years of development. And when you partner with us, you receive marketing and advertising support to help you build your local online presence using search engine optimization (SEO), paid search, and social media marketing (SMM).
Multiple Revenue Streams
Running a janitorial franchise gives you access to many different types of organization including hospitals, office parks, churches, and more. Our unique model gives you many different revenue streams, building cash flow quickly and enabling you to expand very fast.
No Initial Royalty Fees
One of the main reasons aspiring business owners don't look at investing in a franchise is that they are afraid of the large upfront franchise fee and royalties.
At All Pro Franchising International Inc., we make things easier for you because we don't charge royalties for the first six months, helping potential franchisees like you get off to an easier start. When it comes to cleaning company franchises, All Pro stands out!
For more information about our executive franchise opportunity, contact your future partner, All Pro Franchising, today!